Deception
Although this program is for a film, I'm including it as an example of how the silent films
could be made into a full evening's entertainment by a theatre that incuded singers, orchestras, etc.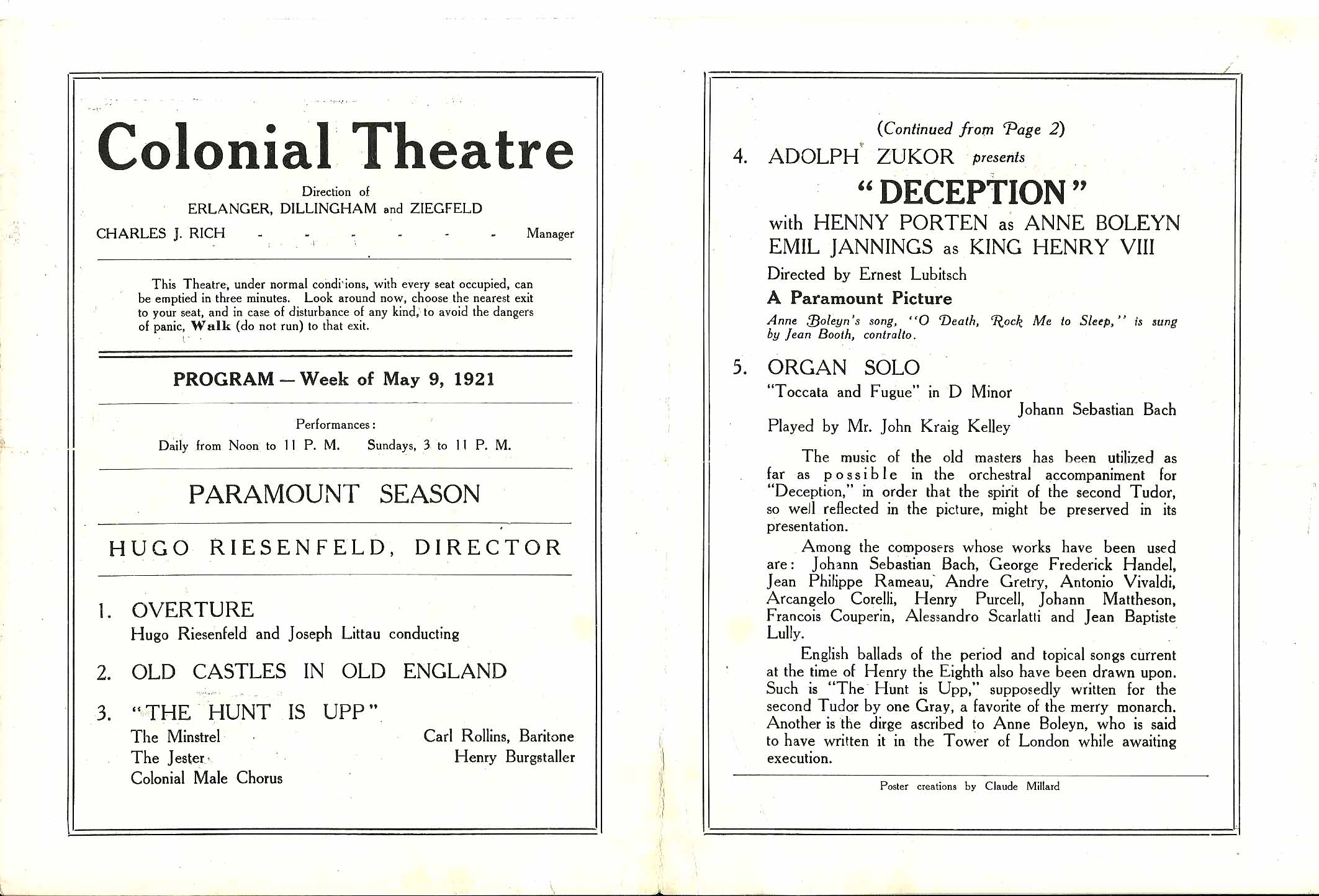 "The story of the ill-fated second wife of the English king Henry VIII,
whose marriage to the Henry led to momentous political and religious turmoil in England."
Unrated, 1 hr. 40 min. / Drama
Directed By: Ernst Lubitsch
Released World-wide: Dec 3, 1920
Released in USA 17 April 1921 by Paramount Pictures
---
Cast
Emil Jannings - Henry VIII
Henny Porten - Anna Boleyn
Paul Hartmann - Sir Henry
Aud Egede Nissen - Lady Joan Seynour
Ferdinand von Alten - Marc Smeton
Paul Biensfeldt - The Jester
---
(from Wilipedia/Hugo Riesenfeld)
Most large movie theaters in the U.S. had their own orchestras for silent film accompaniment, with smaller theaters
having just a piano. The musicians often relied on an already existing repertoire of opera and excerpts from
other compositions. Riesenfeld began as one of the first to write original compositions for films.
Next to Albert William Ketèlbey and Ernö Rapée, Riesenfeld was a pioneer of modern, high-quality production
of music. He also co-founded the cinema library music—topical collections of music for silent film orchestra
and musicians also. "Mr. Riesenfeld puts much emphasis on the music in the movies", in an article about Riesenfeld
and film music. "Orchestra with organ varies in its two large theatres. His organist gets $250 a week,
70 orchestra musicians are well-paid because the lowest wage is 70 dollars a week. [...] Of course,
the business costs in America are quite different than ours. Mr. Riesenfeld explains that he must have
a dose of 50,000 dollars per week to reach its expenses..." (120,000 spectators weekly)
"Mr. Riesenfeld paid up to 6000 dollars a week for the presentation rights for a good movie."
---
(Although there is no city listed, this could only be the Colonial Theatre of Boston,
which was under the management of Erlanger, Dillham and Ziegfeld at this time.)
---
---