Globe Theatre (Lunt-Fontanne)
203-217 West 46th Street / New York City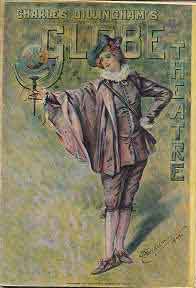 1927 program cover
---
Now known as the Lunt-Fontanne Theatre, the Globe is a legitimate Broadway theatre located at 203-217 West 46th Street in midtown-Manhattan.
Designed by the architectural firm of Carrere and Hastings, it was built by producer Charles Dillingham and opened as the Globe Theatre, in honor of London's Shakespearean playhouse, on January 10, 1910 with a musical entitled The Old Town. Although it was situated on 46th street with a grand Beaux-Arts facade, it also had a small entrance on Broadway between 46th and 47th Streets. Most of the Globe's early shows were dramatic plays, including two revivals of La Dame aux Camélias. In the late teens and 1920s, the focus shifted to musicals.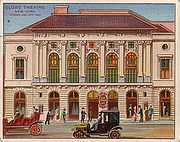 The original design and construction called for the ceiling and the roof 20 feet above it to roll back to reveal starlight and keep the theatre cooler in summer. No other Broadway theatre had such a design. There is no record of it ever actually opening. Other innovations included seats being individually cooled by ice or heated by hot air from vents underneath.
In the 1930s, the Globe was converted into a movie house operated by the Brandt chain. City Playhouses Inc. (which consisted of developers Robert W. Dowling and William Zeckendorf) bought it in 1957 and had the firm Roche and Roche gut renovate it. Major changes were made, including the removal of the second balcony level, the Broadway entrance, and much of the original decor. It was rechristened the Lunt-Fontanne in honor of Alfred Lunt and Lynn Fontanne and reopened on May 5, 1958 with Friedrich Dürrenmatt's The Visit starring the distinguished theatrical couple. The theatre, which seats 1415, presently is owned by the Nederlander Organization.

(from Wikipedia)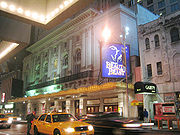 Lunt-Fontanne Theatre / 2003
---
<
Programs available onsite from this theatre: