Nixon Theatre
Penn Ave. & Sixth Street / Pittsburgh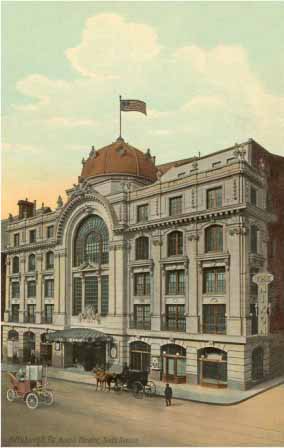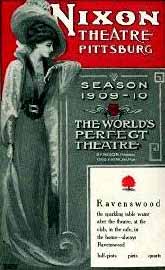 - Nixon Theatre; c.1903 - &nbsp&nbsp&nbsp&nbsp&nbsp&nbsp&nbsp&nbsp&nbsp&nbsp&nbsp&nbsp&nbsp - Program Cover; 1909 - &nbsp&nbsp&nbsp&nbsp&nbsp&nbsp&nbsp&nbsp&nbsp&nbsp&nbsp&nbsp&nbsp - Nixon Theatre; c.1950 -
Nixon Theatre, built by Samuel F. Nixon and located on the corner of Sixth Avenue and William Penn Place, opened on December 7, 1903
and was described at the time as the "world's most perfect playhouse".
---
With a Beaux Arts design and dome, it was the most lavish theater in Pittsburgh. Louis XVth style carried the interior,
with solid gold-topped columns and walls styled to look like silk. Velvet draperies hung in red and gold, and the walls
were said to be acoustically perfect.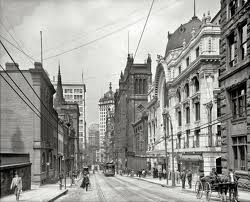 - Sixth Avenue, above Nixon Theatre -
Many of the successful Broadway shows and famous performers played the Nixon Theatre, including Florence Ziegfeld's
"Follies" through the 1920s.



The final show at the playhouse was Mae West's "Diamond Lil," on April 30, 1950.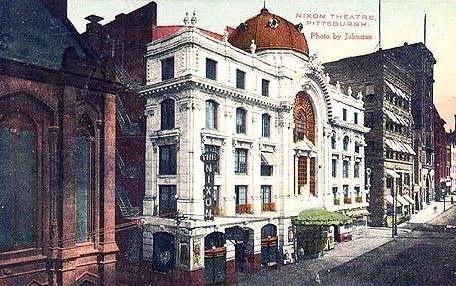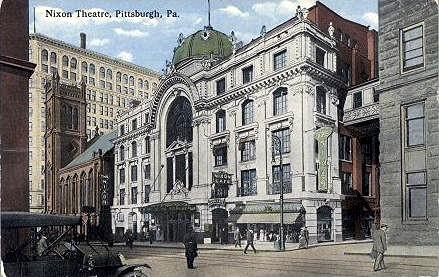 - Postcards from the 1930s showing the Nixon Theatre on Sixth Avenue in downtown Pittsburgh -
The theatre was razed and the land sold to Alcoa for their corporate headquarters, Aluminum Company of America in 1950. It is now known as the Alcoa Building.
Another movie house on Liberty Avenue was named "Nixon Theatre" from 1950 until it was closed in 1975.
---
Programs available from this theatre: