St. James (Erlanger) Theatre
246 W 44th St / NYC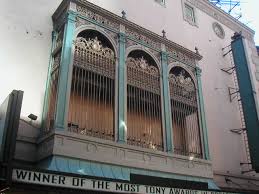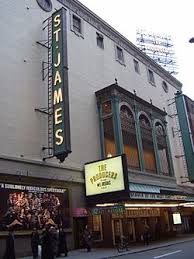 The Erlanger Theater was built in 1927, designed by Warren & Wetmore, as a self-monument (on the site of the original Sardi's
restaurant) to producer-impressario-entrepeneur Abraham Erlanger whose fortunes waxed then waned with that of the Theatrical
Syndicate in which he was a main player. Upon Erlanger's death in 1930, control of the theater was assumed by the Astor
descendants, and the name was changed to the St James. The theater was purchased by the Shuberts and then as a result of a
1957 federal judgement against the Shubert-monopoly, its sale to the Jujamcyn Organization was ordained.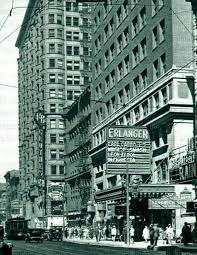 The premiere production at the Erlanger Theater was The Merry Malones on September 25, 1927. In 1938, St. James housed the
first uncut Broadway production of Shakespeare's Hamlet. The first Richard Rogers-Oscar Hammerstein musical to hit Broadway,
O-K-L-A-H-O-M-A-! debuted here in 1943 and hung around for 2,212 performances. Bob Fosse made his Broadway choreography
debut at the St. James in 1954's The Pajama Game. Irving Berlin's last Broadway Show, Mr. President played in 1962.
The Who's Tommy started a 899-performance run in 1993. Other stars to grace the St James stage include Katharine Hepburn
(Without Love, 1942), Betty Grable, Martha Raye, Ginger Rogers, Ethel Merman, Carol Channing (all in Hello Dolly), and
Stockard Channing (debuting in Shakespeare's Two Gentlemen of Verona, 1971).
Adapted from Mel Brooks' 1968 film of the same name, The Producers, debuted in 2001 with Nathan Lane and Matthew Broderick,
breaking Hello Dolly!'s 37-year old record with 12 Tony Awards. The plot centers around washed-up Broadway producer
Max Bialystock (Lane), who schemes with neurotic accountant Leo Bloom (Broderick) to raise a ton of money for a play
that's sure to be a flop and then keep the extra dough. They pick "Springtime for Hitler," written by a Nazi, and hire an offbeat
star and a freakish director. Unfortunately, the audience mistakes the show for a comedy and it becomes the talk of the town.

---
Programs available from this theatre: